---
Das kleine Sonntag-Nachmittags-Geballer-Festival geht in die zweite Runde!
Coxinha Records hält diesmal folgende Leckerbissen für euch bereit:
a sunny sunday fasternoon show with 5 bands.
ARNOXDUEBEL
[power violence // plauen]
https://arnoxduebel.bandcamp.com/
SICKMARK
[power violence // bielefeld]
https://sickmark.bandcamp.com/
C.O.P.Y
[harsh noise // bielefeld]
https://copy1.bandcamp.com/releases
MEDICATION TIME
[power violence // lučenec, slovakia]
https://medicationtime.bandcamp.com/
SCHWACHE NERVEN
[fastcore // göttingen]
https://schwachenerven.bandcamp.com/
16:00 door
17:00 sound
save the date and share it with your friends!
fb-event: https://www.facebook.com/events/895927937473470/
Eintrittspreis folgt noch.
Das wird schön.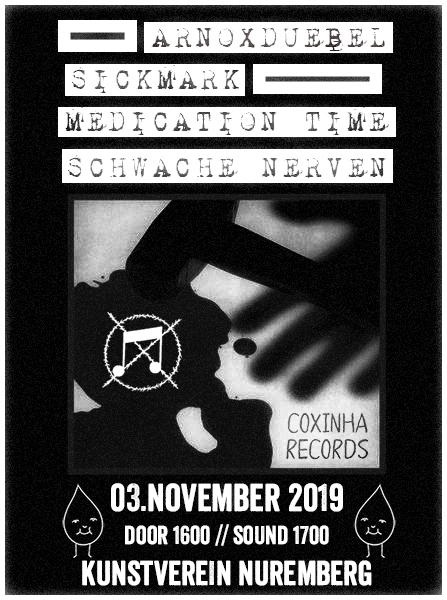 ---
Diesen Termin in Deinen Kalender eintragen: iCal