---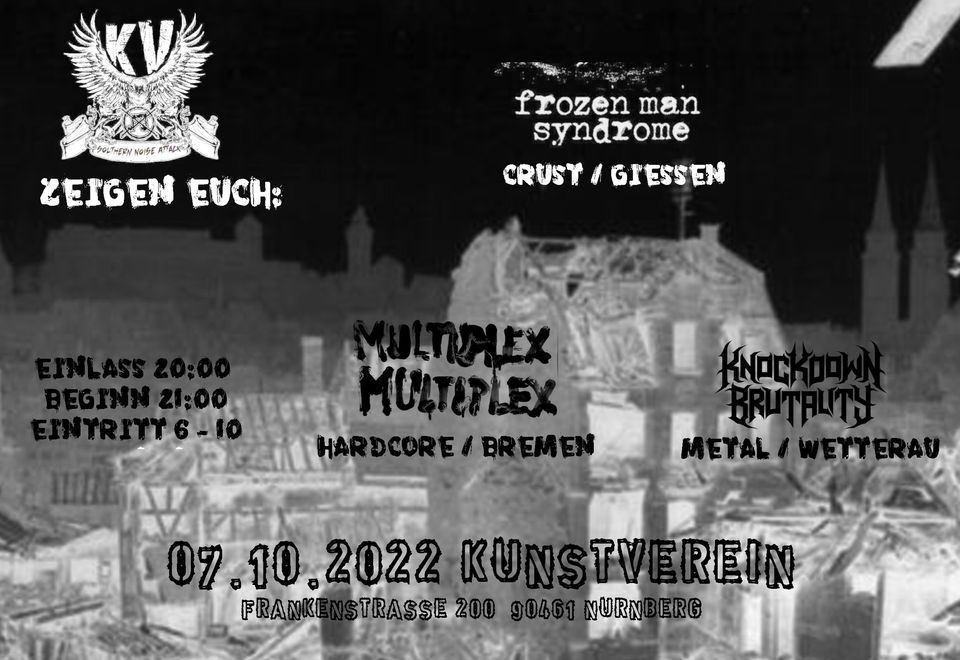 Hey Folks!
Am 07.10.2022 zeigen wir euch 3 Hammer Bands aus der Mitte und Norden Deutschlands. Einen schönen Mix aus Hardcore, schleppenden Metal und Crust!
Mit dabei sind:
Knockdown Brutality ( Metal / Wetterau )
Multiplex ( Hardcore / Bremen )
Multiplex Hardcore Punk aus Bremen, entstanden 2020 aus Mitbewohnern, als noch strikte Corona Kontaktbeschränkungen waren. dann kam noch Anna als 2te Sängerin dazu, doppelgesang, Go!
Frozen Man Syndrome ( Crust / Gießen )
Frozen Man Syndrome gibt es seit 2010. In der aktuellen Besetzung seit ca. 2012 ursprünglich waren sie mal zu fünft und versuchen sich am Neocrust. Laut Band beschreibt der folgende Text ihre Einstellung…
although/because we don't have explicit political lyrics, it's really important for us to make clear that we deeply hate every kind of racismantisemitismsexismlookismhomophobia & any other kind of exclusionary behavior!!! if you don't share this opinion don't listen to our music & please kill yourself!!!